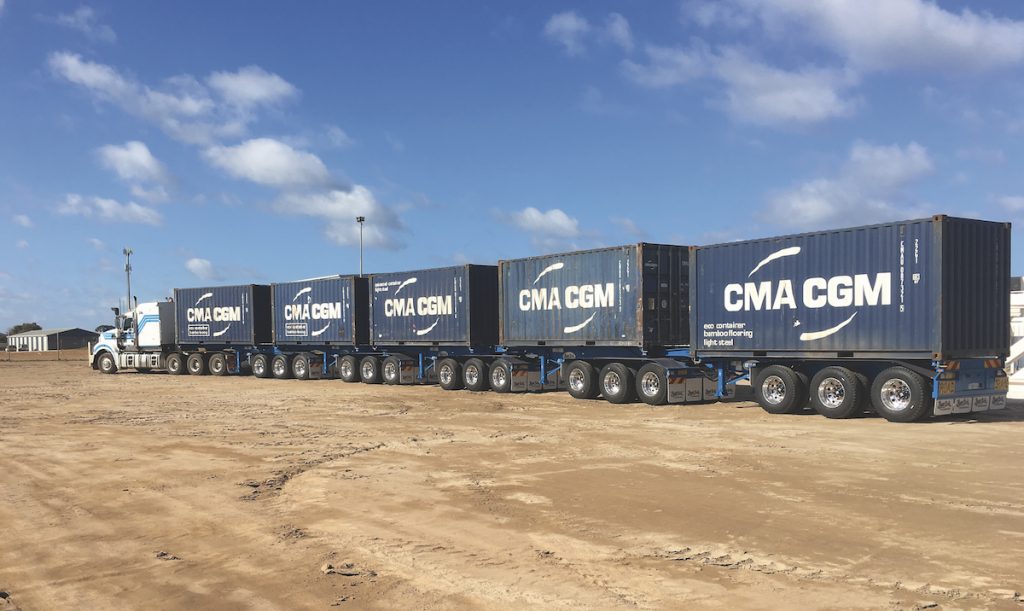 Collaboration Delivers Success For Tiger Spider
As featured in Trailer Magazine.
Despite a year of trials and tribulations – some of which the road transport industry has weathered together – the Performance-Based Standards specialists at Tiger Spider have once again triumphed through innovation, persistence and passion.
2020 has been an eventful, if not surreal year for all people throughout the world. As the first wave of Covid-19 took hold in March, Tiger Spider's principal engineers Marcus and Brendan Coleman mourned the loss of their father, Leo, who died after complications from heart surgery.
As the team at Tiger Spider adapted to new work at home arrangements, Marcus and Brendan made funeral arrangements in Mollymook, New South Wales, where only months earlier they hunkered down with their parents wondering whether they would survive the impeding inferno of summer bushfires. Happily, the archbishop provided last minute dispensation for the funeral to proceed and the Coleman family were able to lay Leo to rest overlooking Mollymook beach.
Fortunately, the capable Tiger Spider engineering, software and road access teams were able to press on and maintain seamless business continuity during this time, quickly adapting to working remotely from home.
After the initial shock in March the year progressed steadily for Tiger Spider with increasing growth in demand for Performance-Based Standards (PBS), engineering and software services.
Despite the pandemic, it has been a very busy year for PBS, both in terms of market activity and regulatory reform. The National Heavy Vehicle Regulator (NHVR) has undertaken reviews into PBS tyres and pavement horizontal loading standards and Tiger Spider provided technical inputs and advice on both projects to the NHVR in 2020.
"A key consideration for us was whether our existing clients and approval holders will be disadvantaged by any changes to PBS standards and processes, and to ensure the scheme doesn't take a backward step, to keep delivering on safety and productivity," Marcus Coleman, Tiger Spider founder and Managing Director, says.
"It was therefore pleasing to see that the National Transport Commission (NTC) review recommended that productivity and safety are maintained as dual objectives and PBS is a key focus of the heavy vehicle law – improving both productivity and safety is central to everything we do at Tiger Spider.
"We've kept a close eye on the reforms and are always keen to work with road managers and regulators to support PBS reforms. This includes collaborating with the NHVR digital products group to improve the NHVR portal processing of PBS applications." Collaboration, according to Marcus, is in Tiger Spider's DNA.
"We recognise that to be successful in transport you need to work with and develop strong relationships with customers, help them support their customers, and work with all complimentary resources in the supply chain, including regulators and road managers," he says. "No one business can go it alone in transport. We are blessed with a strong network across the industry, which means we can confidently push the limits of innovation, safe in the knowledge that the end-user won't be let down." Tiger Spider is also committed to research and development and this year was happy to mint its first PhD with Dr Joshua Allwright. Tiger Spider sponsored Joshua's PhD in electric traction systems which investigated the viability of electric traction systems for PBS Vehicles.
Joshua now works full-time at Tiger Spider, while continuing his research into heavy electric vehicles along with mentoring the Swinburne Formula SAE team and teaching Finite Element Analysis (FEA). Joshua has worked on several key client projects and has boosted Tiger Spiders structural design, FEA and consulting capacity.
"I've been fortunate to work on some really interesting projects at Tiger Spider – trailer design automation using Autodesk inventor, a hybrid powertrain along with some innovative drawbar designs have been highlights," Joshua says. "Doing a PhD is a very solitary pursuit. It surprised me how much can be achieved working in a collaborative environment like Tiger Spider. I'm so grateful to be working with Marcus and Brendan who have so much engineering experience and expertise." This year also saw the engineers at Tiger Spider hard at work harnessing their knowledge and processes into reconfiguring their software products.
Tiger Spider reconfigured three Software as a Service (SaaS) products this year – Hevi Spec, Spider Path, and Fleet Form. Hevi Spec is the flagship PBS Assessment product which has been developed to make PBS assessment more accessible to truck and trailer manufacturers and equipment suppliers. Complementing this is Spider Path, and online swept path analysis tool aimed at transport companies and road managers to give them the tools and confidence that a longer PBS combination will work in their yard and on their required route.
"We're had really positive feedback from state road managers who've adopted Spider Path after careful testing to ensure that it was reliable and met their needs. We believe fleet and local road managers will also find Spider Path a useful tool when making purchase and access decisions for PBS combinations." Marcus says.
Spider path allows a user to check any PBS combination over a Google map image and will soon include high-resolution Nearmaps images for more accurate swept path analysis. Fleet Form is a customisable PBS management system designed for businesses that produce or maintain large PBS fleets.
Tiger Spider in collaboration with partner Computational Mechanics have also released a new pneumatic systems module in 2020 developed in response to Hendrickson Australia's desire to have a more advanced suspension modelling capability.
Aside from the behind the scenes work that goes on in supporting the PBS Scheme perhaps the most interesting things Tiger Spider has been involved in this year are the new PBS combinations and concepts they have been involved in.
Most notably the Europantech Mega Van with multiple tandem axle groups, the Snowy Hydro 2.0 B-triple pipe segment carrier with 6×6 prime mover designed to transport pipe segments from Cooma deep in the Snowy mountains and various WA road train concepts like the Bruce Rock Engineering B-quin and Howard Porter and Tieman quad-axle road trains.
"Seeing the new concepts move from idea to reality and pushing the limits of what we can do is what PBS and the Australian transport industry is all about," Marcus says. "If 2020 has proven anything it is that it will take a lot more than a global pandemic, draconian lockdowns or global geopolitical crisis to stop the Australian transport industry moving forward."